wenas para todo el grupo
os pongo una guia de colores britanicos con base de Tamiya, que en su momento colgo Mike Starmer, en el foro de ML a 1/48 como ref. para pintar tanques y vehiculos britanicos.
de hay salieros los colores caunter del Tilly que pinte hace un tiempo. ( BS 64 Portland Stone / BS.28 Silver Grey / BS. 34 Slate )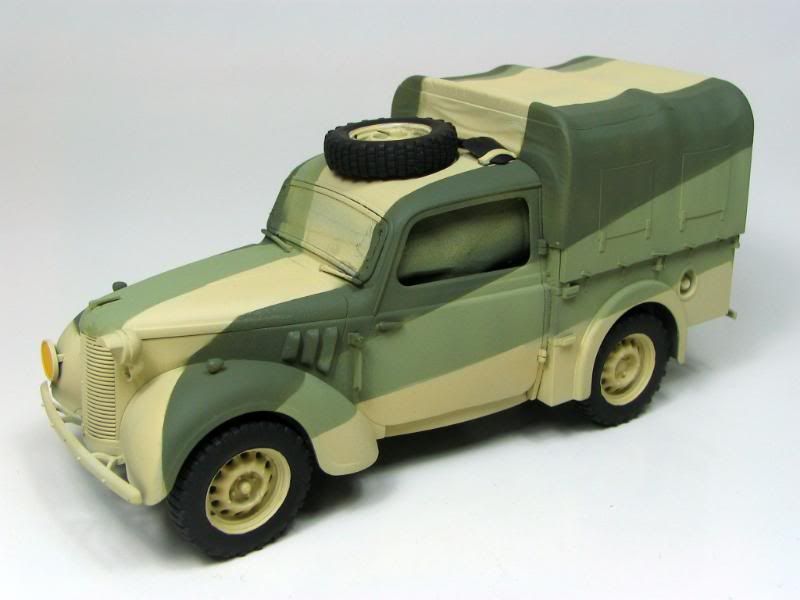 espero que os sirvan..
saludos Xavier
BS.24 Deep Bronze Green
This colour became the standard basic colour from 1934 till replaced by Khaki Green No.3 in 1939. It was usually highly polished and took on a near black appearance on contemporary photographs. Some vehicles of the BEF still had this colour either overall or as the disrupter with Khaki Green 3.
The colour was reintroduced in 1946 when the British services reverted to the prewar colours so your Korean service vehicles would be this colour.
Mix: 8pts XF5 + 5 pts XF62. You will need to apply satin varnish over this to achieve the correct appearance.
-----------------------------
Khaki Green G.3 This is the new basic colour from mid-1939 till phased out in 1941. Mix 3 pts XF62 + 2 pts XF59. The result is slightly less rich than my sample matched to an original colour and slightly less brown than a steel helmet in original colour.
Dark Green G4; no actual sample found; yet. The colour specified for use over Khaki Green 3 in scheme 1 in MTP 20.
Mix: - 3 pts XF51 + 2 pts XF 58.
This mix is based on the colour I use over Khaki Green 3 and is based on the use of complimentary hues and the low tonal contrast evident in contemporary photographs.
----------------------
SCC 1A
This is the dark brown used as the disrupter over SCC2 brown from late 1941 and SCC15 Olive Drab till end of the war in NWE and Italy mostly on softskins. Black was intended to replace it but never really did.
Mix: 7 pts XF10 + 2 pts XF 1. This is very close to the standard so lighten it slightly fro your models.
-----------
SCC 13
This colour was used on vehicles in India and Burma from earliest late 1942 till 1945 on softskins and AFVs.
Mix: 2 pts XF51 + 1 pt XF61 +1 pt XF3. This is a dull muddy green shade often refered to as 'jungle green'. OK on your British, Indian and Chinese Sherman Vs and M3 Lees and Stuarts.
-----------
BS 64 Portland Stone
Another basic desert colour, BS 64 Portland Stone. Mix:
6 pts XF2 + 1 pt XF3 + 1 pt XF57. This could stand a fraction more white and a fraction les XF57. To get it nearer I would have to use greater proportions and that would be silly.
--------------
BS 61 Light Stone
Since many modellers use Tamiya paints The following mix may be of interest to those interested in British WW 2 desert vehicles. Colour in use 1940-43 Mix Tamiya flat paints: 7 pts XF2 + 2 pts XF59 + 2 pts XF3. Very closely match to the 1930 colour.
----------------
BS. 33 & 633 RAF Blue Grey Mix
I have mananged to match the BS.33 & post-war 633 colour as used on most RAF ground vehicles from 1937 till 1941 then again in 1946.
Humbrol enamels:- mix 5 parts H32 dark grey + 2 parts H14 French blue + 2 parts 33 black.
This is the correct colour for RAF vehicles, not Humbrol 96 which is the RAF uniform colour. Please note the the new Austin Utility car was never used by the RAF.
-----------------------
SCC Nº.7 Green
An obscure colour used as a bituminious emulsion on canvas tilts and tentage since enamal paint rotted the fabic. In use from August 1941 for only about a year as the basic colour on tilts with SCC.1A as the disrupter. Body work remained Khaki Green 3 and Dark Green or Dark Tarmac 4 in the striped patterning style. Was also used later used on penthouse canvas and tentage in NWE where the vehicle boby was green.
Mix: 1pt XF62 + 1pt XF67 + 1pt XF3, a touch more XF3 is not bad.
------------------------
BS.28 Silver Grey
This is one of the colours used as a disrupter with Slate in the 'Caunter' scheme from mid tolate 1094 till cancelled in December 1941. Used on all types of vehicle and AFv in Egypt and parts of M.E.
Mix: 7pts XF21 + 1pt XF19 + 1pt XF4. Be careful with XF4, even a little too much will throw your colour too green, err on the light side.
------------------
Dark Tanrmac nº 4
This is the colour that replaced Dark Green G4 in spring or summer 1941. Initially used as per MTP20 striped designs then in MTP46/4A style. In turn replaced by SCC1A and then SCC 14 black.
Mix: 1prt XF24 + 1prt XF69.
This is provisional based on Revell 78 which I use, and comparison of test mixes and description of a sample found in Canadian archives by Steve Guthrie
-----------------
BS. 34 Slate
After a number of failed attempts the mix for this colour turned out to be simple. Slate was the darkest colour specified for use in Caunter scheme from 1940 till 1941 but apparently retained as one of the alternative colours for use with the October 1942 patterns.
Mix: 1 pt XF24 + 1 pt XF4. The result may benefit from a touch more white or light grey as this mix is a fraction darker than the standard but do not use XF20 as this has red in it.
----------------
Desert Pink
This colour was the new basic colour for all vehicles from October 1942 just prior to the Alamein battles. Phased out of use at the end of May 1943. the colour itself was locally made no doubt with a number of shade variations so my colour is provisional based on descri[tions and SCC 11b in the Camouflage book.
Mix: 5 pts XF2 + 5pts XF15 +1 pt XF52. Be very careful with XF52 as even a little too much will result in a too mauve colour, the result should be a pale earthy pink shade. A touch more white might beneficial.
---------------------
SCC Nº 2 ( Brown )
At last I managed to get the mix for this colour which replaced Khai Green 3 as the basic vehicle colour from late 1941 till the end of the war. But replaced by SCC 15 on many vehicles from March 1944 for NWE although stiil in use right till the end. Used on vehicles from U.K. and Canada on shipments to M.E. 1943 -45 in Tunisia, Sicily and Itly.
Mix: 5pts XF68 + 4pts XF3 + 1pt XF1. Slightly strong so careful with the 68 and even a touch too much black sends it far too dark.
----------------------
SCC Nº 15 Olive Drab
This is the colour that replaced SCC 2 brown as the basic colour from April 1944 on in NWE and Italy.
Mix: 5pts XF61 + 2pts XF62 + 2 pts XF3. This is slightly darker than the standard so a wee touch more XF3 would be OK. Then allow for scale effect.